October 16-25, 2020
Directed by Taurie Kinoshita
The show you see tonight is entirely unique. Like Artaud envisioned, it is unrepeatable: the actor will adjust his or her storyline in response to you, the audience. There are 12 different storylines; each of these 12 mini-plays is entirely different and, again–changes every night based on the audience! Thank you in advance for playing with us and engaging with your actor (who is playing the role of your best friend!). We hope you have a truly intimate, unique and unforgettable experience, living for 30 minutes in someone else's shoes, in an entirely fictive relationship, yet encountering real intimacy.
In theatre, the audience is always passively complicit in the creation of the performance (their imagination fills in the blanks of setting or weather); in this production your collaboration is integral.
"Theatre, at is best, makes you turn to the person next to you, who you know, and it makes you feel like you don't know them; and it makes you turn to the person next to you that you don't know and it makes you feel like you know them." Please enjoy the role of "best friend" played by a stranger.
There is a core difference between theatre and live television: theatre, at its most basic, requires a connection with the audience. In theatre, the actor must respond to the audience's energy—whether holding for laughs or picking up the pace. As theatre theorist Jerzy Grotowski said, theatre can exist without costumes, without a set, without a text—but not without an actor and a spectator, "theatre then is what takes place between actor and spectator."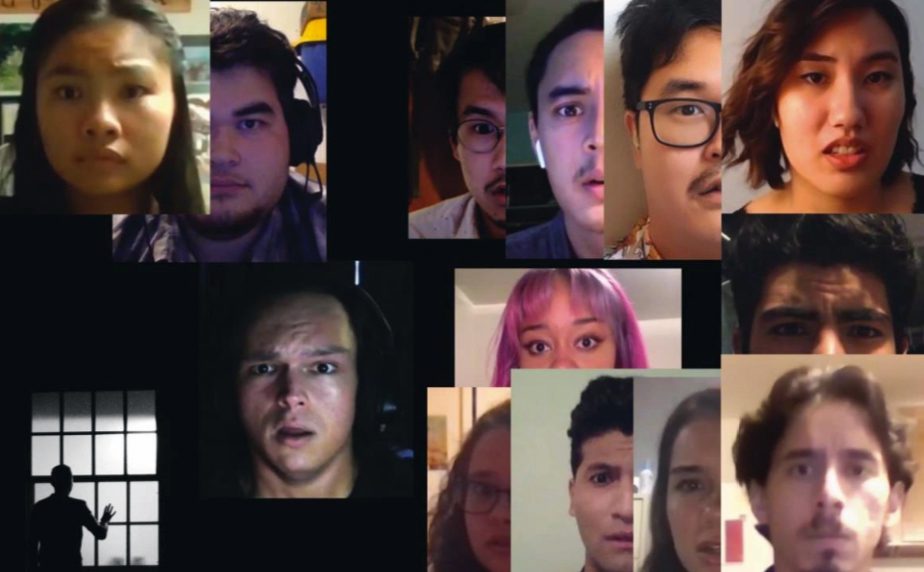 CAST
BonneDora Aipa as Malia Lei
Jax Claybaugh as Ziggy
Kaleialoha Froning as Maile DiCarlo
Brandon Hagio as Darren Kubota
Dylan Lemingas as Elijah Jackson
Manuel A. Moreno as Darby Morrison
Noah Nakachi as Richard Kamailei
Rod Rodriguez as Miguel Fuentes
Thomalin Sirivattha as Katie Seres
Noah Schuetz as Makana Richardson
Ayanna Tate as Jasmine Love Hewitt
Austin J. Yoshida as Jason Sato
Also appearing in several shows:
Marilynn Bellinger as Lucy
Alysia-Leila Kepaa as Lily
and Spencer McCarrey
Production Team
Lighting and Backdrops: Jayden Hong and Kelli Finnegan
Sound: Austin Yoshida and Phillip Foster
Stage Combat: Noah Schuetz
Video Combat: Alex Durrant
Videos: Micah Souza and Miles Kunimura
News Footage: David Fry
Makeup Consultant: R. Andrew Doan
Technical Assistants: Jayden Hong and Kelli Finnegan
Publicity: Bonnie Beatson, Chelsea Yamashiro, Kelli Finnegan, and Nicole Tessier
Poster/Fliers: Patricia Brubaker
Special Thanks
Colette Higgins, Erin Harrell, Elizabeth Ratliff, David Fry, Michael Tom, Michael McIntosh, Claire Fallon, Daniel A. Kelin II, Alakaʻi Cunningham, Michael Wall, Nicole Tessier, Jason A. Kanda, Victoria Brown-Wilson, Patricia Brubaker and WCC Media Center, Nicolas Logue, Tony Pisculli, Spencer McCarrey, Bonnie Beatson, Alex Durrant, Chelsea Yamashiro, Harry Wong III, and as always Dennis Carroll.
Cast Bios
BonneDora Aipa
(Malia Lei) was raised in Waimānalo, and is pursuing a degree in theatre, focusing on acting. She is trained in both acting and improvisation by Nicolas Logue and would like to thank him for encouraging her to follow her dreams.
Marilynn Bellinger
(Lucy) most recently performed in Oriental Faddah and Son at Palikū Theatre, for which she was honored with a Po'okela for excellence in performance as female lead in a non-traditional performance. Other credits include Ragtime and Mamma Mia. She is currently pursuing theatre at WCC and also trains in dance.
Jax Claybaugh
(Ziggy Lawrence) is a senior at Kalaheo High School who loves surfing and cliff jumping. Acting is his passion and pursuing theatre is the best training for any career in performance.
Kaleialoha Froning
(Maile DiCarlo) most recently directed a virtual production of Dear Evan Hansen and has performed extensively with Keaka Kamehameha. She competes in National History Day and received an Honorable mention for her group performance about the overthrow of the Hawaiian Kingdom and Queen Liliʻuokalani. She plans on double majoring in theatre and psychology, then pursuing a Master's in Drama Therapy.
Kelli Finnegan
(SM, Technical Assistant, Lighting) spent four years working as light crew for Central Theatre Arts Academy (CTAA) at Mililani High School where she designed lighting for shows such as Beauty and the Beast and Once on this Island. She has also been a part of the tech crew for shows at Ohana Arts and worked with Leeward Theatre on Nocturnal Emissions. She is currently in her first semester of college at LCC before eventually transferring to UH Manoa to pursue a BA in theatre.
Brandon Hagio
(Darren Kubota) has acted in dozens of shows, including Watcher of Waipuna, The Secret in the Wings, A Winter's Tale, and Uncle's Regularly Scheduled Garage Party is CANCELLED Tonight! Brandon was honored with two ensemble acting Poʻokela for Dead of Night and Echoes of Dat Red Guitar, a Poʻokela for leading male in a play for Da Beer Can Hat, and most recently for leading male in a non-traditional performance for Oriental Faddah and Son at Palikū Theatre.
Jayden Hong
(SM, Technical Assistant, Lighting) is an aspiring Lighting Designer who's currently a freshman in college studying to get a degree in liberal arts. In his spare time he enjoys playing video games with friends. Jayden has worked on as a follow spot operator with Central Theatre Arts Academy (CTAA)'s productions of Beauty and the Beast and Once on This Island, including a touring performance in Hilo. He has designed three small one acts with CTAA, and was set to be the lighting designer for Leeward Theatre's production of Hamlet but due to the Covid-19 pandemic that show was performed online.
Alysia Kepaa
(Lily) is pursuing her AA concentration in Theatre at WCC and making her Palikū Theatre debut. Alysia is a trained singer and dancer, and has worked with Nanakuli Performing Arts center, as well as professionally karaoking pre-Covid. She enjoys reading, watching films, and hopes to travel again soon.
Dylan Leming
(Elijah Jackson) was most recently seen in Palikū Theatre's Oriental Faddah and Son, for which he received the WCC Theatre Department Outstanding Professionalism award. Dylan is an Irene Ryan candidate; other credits include East of the Son and West of the Moon at Hawaii Theatre Center, a tour to the Edinburgh Fringe Festival, and the musicals Rent, Hairspray, and Les Miserables. His film work includes the Netflix film Triple Frontier and the requisite young actor extra work.
Manuel A. Moreno
(Darby Morrison) is trained in voice and classical text, and is certified professionally in stage combat. Most recently, he performed in Oriental Faddah and Son at Palikū Theatre and Way of a God at Kumu Kahua Theatre. Manny was an Irene Ryan candidate, trained in London and Stratford-upon-Avon with the Royal Shakespeare Company and E15 Acting School, and was awarded an Exemplary Performance accolade.
Noah Nakachi
(Richard Kamailei aka "Richie boy") speaks Hawaiian, is trained in classical text, and moonlights as a voice actor. Noah most recently performed in Oriental Faddah and Son at Palikū Theatre, receiving the WCC Theatre Exemplary Performance award and a Po'okela from the Hawaii State Theatre Council for excellence in a non-traditional performance as a featured male. Other acting credits include the Good Person of Szechwan at UHM Kennedy Theatre, Maui in Maui the Demigod, and Gratiano in The Merchant of Venice.
Rod Rodriguez
(Miguel Fuentes) was raised in Plainview, Texas and enlisted in the Marine Corps at the age of 19. He was deployed and served for eight years, before being honorably discharged in June 2019. Rod is currently a Theatre Department SI, received the WCC Theatre Department Exceptional Commitment to Excellence award, and most recently performed in Oriental Faddah and Son at Palikū Theatre.
Noah Schuetz
(Makana Richardson) was born in the islands and raised by his grandfather. Most recently he performed as Banquo in Macbeth for the Hawaii Shakespeare Festival (HSF) and Way of a God at Kumu Kahua Theatre. He is choreographing stage combat for HPU's A Shot Rang Out. Noah was seen in Wreaking Havoc in the Dragon's Palace, Massie/Kahahawai, Burning/Memory, and A Walking Shadow at Palikū Theatre. Noah has studied with the RSC and E15 Acting School as part of the WCC London Study Abroad program, was an Irene Ryan Candidate for KCACTF, is certified in stage combat by Dueling Arts International, and performed in HSF's educational tour of Romeo and Juliet. Next year, Noah will finish his B.A. in theatre so he can work as a professional Stage Combat Choreographer.
Thomalin Sirivattha
(Katie Seres) was born and raised on the island of Oahu, is a proud graduate of Theodore Roosevelt High School (class of 2019), and is currently a WCC student studying Theatre. She hopes to one day get her degree in Education. She enjoys paddling, spending time watching movies, and driving around the island with her friends and family. She paddled for Roosevelt from 2015 – 2019 and has returned as a coach for Roosevelt and Waikiki Yacht Club. She has also directed and performed for Roosevelt High School.
Ayanna Tate
(Jasmine Love Hewitt) was raised as a military kid, moving every two to three years, and has been in Hawaiʻi for seven years. After an exchange program in Haebaru, Okinawa in 2016, she became heavily involved in the Hawaiʻi Okinawan community and performs Eisa (Okinawan folk dance). During her time at Yale-NUS College in Singapore, Ayanna was a member of an improv troupe that performed six sold-out shows and attended the 2019 Manila Improv Festival. She has come to Windward Community College to fulfill her childhood dream of pursuing the arts by studying theatre and fine art.
Austin Yoshida
(Jason Sato) is a WCC Theatre student. He was most recently seen in Oriental Faddah and Son at Palikū Theatre. Other acting credits include Ragtime (CPAC), and Allegiance (MVT). He has performed at the Edinburgh Fringe Festival, loves dancing, singing, and operating mixers. He is currently a SI for the theatre department and was awarded the Outstanding Professionalism award by WCC Theatre department.
About the Director
Taurie Kinoshita 
was raised in Honolulu, but spent four years in England, teaching at E15 Acting School, University of Essex, considered one of the top three acting conservatories in the UK. Taurie has directed over 120 critically acclaimed productions in NYC, London, and Honolulu. Some of her directing credits include: the underneath, Pelicans, and Black Faggot (Kumu Kahua Theatre), Henry VIII, Much Ado About Nothing, As You Like it, Witch of Edmonton, Macbeth (Hawaii Shakespeare Festival), Romeo and Juliet, Taming of the Shrew, The Memory of a Dream (Clifftown Studios, East London), Castaways, Madness of Andrea Yates (Etcetera Theatre, London), Street Limbo Blues (Café Pick Me Up, NYC), Andrea /Agave (Lafayette Street Theatre, NYC), 4.48 Psychosis (Mark's Garage). Taurie directed professionally for the Sex Abuse Treatment Center, writing and directing the touring school shows. She holds an MFA in Directing. Taurie was awarded the Lucie Bentley Award for Excellence in Acting, the Inouye Award for Excellence in Playwriting, honored with five Po'okela for directing by the Hawaii State Theatre Council and Best New London, Camden Company in 20010. Taurie is chair of the Play Development Committee at Kumu Kahua Theatre, Education Director for the Hawaii Shakespeare Festival, Hawaii Correspondent for The Theatre Times, teaches theatre at Windward Community College, and was recently honored with the Francis Davis Award for Excellence in Undergraduate Teaching and the Kennedy Festival American College Theatre Festival, Region 8 award for Excellence in Theatre Education.
For the Student Audience
One cannot argue that Shakespeare was a bad writer. You would lose that argument. You can say "I hate Shakespeare, I hate all his plays," but your personal subjective feelings have nothing to do with his successful brilliance. Learning to discern the difference between the success of a fine art and your feelings about the fine art engenders critical thinking.
Goethe, a German writer in the late 18th century and father of the Sturm and Drang (Storm and Stress) movement, proposed that when analyzing a work of art, one must consider the goal of the artwork and whether the goal was achieved.
In a student production, the goal is always two-fold. For the audience to learn and engage with the material, and for the student actors to learn and engage with the material and the audience.
Since theatre is the only art form which encompasses all other art forms (theatre uses music, movement and/or dance, visual art – costume and set design, architecture – consideration of the theatrical space, and literature and poetry), any theatrical production must be considered on multiple levels. Even writing a long program note is a choice. Many directors have an aversion to program notes; they believe the show should stand on its own without the note. While I believe this is true (one should not have to read the program note to enjoy the play), I think program notes can help the audience to enjoy the play on more than one single level. Most audiences will not be able to return to see a second show; any work of art often demands a second viewing; theatre often has several levels (like a poem) which need deciphering. If you go to a museum and see an exhibit on Cubism, you may enjoy the astonishing use of geometric shapes and composition of the picture. But, if you get to read a little about Cubism prior to seeing the picture, you can enjoy the painting on more levels.