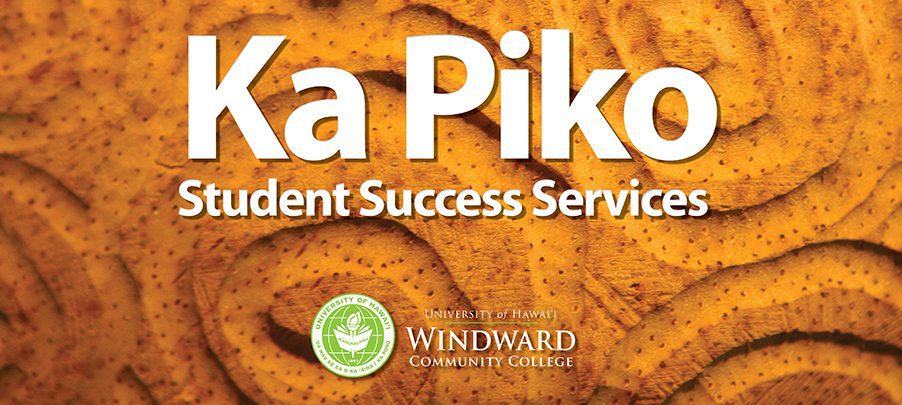 Ka Piko at Windward Community College is committed to student success by providing testing, tutoring, and success workshops to help students build a foundation for independent lifelong learning and self-efficacy.
Ka Piko services are FREE for all WCC students!
How can we help you today?
Connect with a Tutor
Tutoring Options
Ka Piko Tutoring Instructions (Dropping in & Booking appointments)
Option #1: Drop-In Tutoring
Students can drop-in in person or virtually anytime during drop-in (live) hours (while tutors are working).
In-Person: During drop-in hours, visit the Math Lab at Hale La'akea 220 or the Writing Lab at Hale La'akea 222.
Virtual: Once logged in and on the waitlist, a unique Zoom room will be generated and sent to you via email/text. Simply click on the link to get your tutoring session started.
Connect with a tutor by following these steps:
View the tutoring schedules
Connect with a Ka Piko tutor
Wait for an email/text with your tutor's Zoom link
Click the link to start your tutoring session
Option #2: Appointment-Based Tutoring
Students can book an appointment with our services for a future tutoring session. Once you've booked an appointment, you will receive an email with the session's Zoom link. Appointments must be booked at least 24 hours in advance. Read our other online tutoring policies.
Book an appointment by following these steps:
Login to STAR Balance via star.hawaii.edu/appointment/
Select "Tutoring, Tech & Learning Centers" from the left navigation pane
Select "WCC Math Lab" or "WCC Writing Lab"
View the available time slots and select the time you would like to make an appointment.
Complete the pop-up form with information about your tutoring appointment.
An email confirmation of the appointment will be sent to your hawaii.edu email account. That email contains the Zoom link for your future tutoring appointment.
Learn more about Ka Piko Services
Ka Piko Tutoring:
The Math Lab provides assistance for all math courses offered at WCC, helping to improve students' understanding of important concepts and problem solving processes.
The Writing Lab provides assistance with any and all aspects of the writing process, including: brainstorming, research, MLA formatting and citations, drafting, and revising.
Ka Piko Embedded Tutoring:
Supplemental Instruction (SI) is an academic support program that targets historically difficult courses. An SI Leader attends their assigned course each time it meets and hosts SI Sessions, which are regularly-scheduled, out-of-class review sessions in which students work collaboratively to understand course content and prepare for examinations. WCC has the only accredited SI program in the State of Hawai'i by the International Center for Supplemental Instruction.
Ka Piko Testing
The Testing Center provides the following test proctoring services:
Placement tests
Distance Education online and written tests
Make-up tests and retests for campus courses
These services are free to all UH System students, and for a fee, to non-UH System students and private organizations.
Ka Piko Student Tech Support
Ka Piko Student Tech Support can help students with Google@UH, Laulima, MyUH, UH accounts, and can provide best-effort support for problems or questions with personal computers and other smart devices.
Attend a Success Connection Workshop
Join us for Success Connection Workshops to learn more about how to be a successful student! Workshops are FREE and open to all students attending a UH Community College. RSVP to the events below.
Contact Us
Ka Piko Tutoring Services

Scott Sutherland
Ka Piko Coordinator
808-235-7467
scottjks@hawaii.edu
Ka Piko Testing
Jesse Soileau
Testing Center Manager
808-235-7498
wccdet@hawaii.edu
Ka Piko Student Tech Support
Ka Piko Student Tech Support
winhelp@hawaii.edu
Social Media