Stories of Local Women and Girls
KEYNOTE EVENT
Film: Kumu Hina
Thursday March 17 from 11:30 am – 1:30 pm
Screening the film:
Panel discussion after the film with WHM Keynote Speaker Hina Wong-Kalu and filmmakers Joe Wilson and Dean Hamer
(From the website) KUMU HINA is a powerful film about the struggle to maintain Pacific Islander culture and values within the Westernized society of modern day Hawaiʻi. It is told through the lens of an extraordinary Native Hawaiian who is both a proud and confident māhū, or transgender woman, and an honored and respected kumu, or teacher, cultural practitioner, and community leader.
Co-Sponsored by WCC's Women's History Month Program, the Office of Student Affairs, Ke Kumu Pali, and Safe Spaces, with funding from Ke Kumu Pali and SEED Initiatives for Diversity, Equity, Access and Success (IDEAS).
---
Film: Patsy Mink: Ahead of the Majority
Tuesday March 15 from 10:00 am – 11:15 pm
Q&A to follow with film director and WCC Journalism Instructor Kimberlee Bassford
In 1965, Patsy Mink became the first Asian American woman and woman of color in the United States Congress. Seven years later, she ran for the U.S. presidency and co-authored Title IX, the landmark legislation that opened up higher education and athletics to America's women. PATSY MINK: AHEAD OF THE MAJORITY looks at Mink's remarkable political journey, while often lonely and tumultuous, as she fought for the most disenfranchised and forgotten in society.
http://www.aheadofthemajority.com/
---
Film: Winning Girl
Tuesday March 15 from 11:30 am – 12:45 pm
Q&A to follow with film director and WCC Journalism Instructor Kimberlee Bassford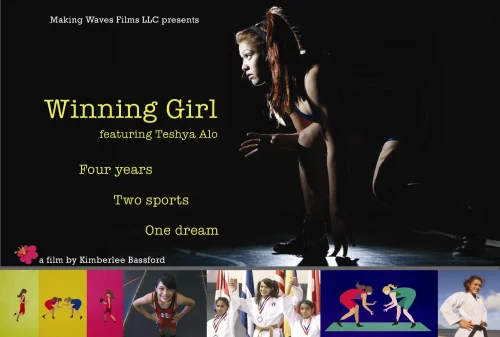 Teshya Alo is 16 years old and 125 pounds. But on the judo and wrestling mats, she throws women twice her age and pounds heavier. And she beats boys. Now, she has her sights set on taking gold at both the judo and wrestling world championships. But it won't be easy. Winning Girl follows the four-year journey of this part-Polynesian teenage judo and wrestling phenomenon from Hawai'i, and in doing so tells the dynamic story of an elite athlete on her ascent, a girl facing the challenges of growing up and an entire family dedicated to a single dream.
http://www.piccom.org/programs/winning-girl#.VhMlAitDRCw
---
Film: E Haku Inoa: To Weave a Name
Thursday March 17 from 10:00 – 11:15 am
Audience discussion after the film
(From the website) Filmmaker Christen Hepuakoa Marquez was born in Honolulu, Hawaiʻi. Christen's family deteriorated when her mother Elena was diagnosed with schizophrenia, and as a young girl she moved to Seattle with her father and brothers. After nearly 20 years of living in the continental U.S., Christen returns to Hawai'i to learn the meaning of her incredibly long Hawaiian name from her estranged mother.
http://itvs.org/films/haku-inoa
---