Find the hours and menu on the CCE Website.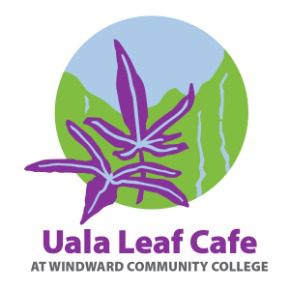 Located at the top of the Windward Community College campus in Hale Akoakoa, the cafe features lunch Monday through Friday except State holidays. Serving students, faculty, staff and community. The cafe team is also available for on campus event catering.
The Uala Leaf Cafe is the operations portion of the Hiilaniwai Foodservice Innovations Training Program (HiFIT) and is also used as the On The Job (OJT) training experience of HiFIT.
Featuring a variety of affordable daily options, including a mix of local style favorites with local ingredients, heart healthy, vegetarian and vegan. We are a Blue Zones Project Approved Restaurant.
For more catering information please contact Daniel Swift at 808-235-7357 or danswift@hawaii.edu